There is so much organization put into the opening and running of a restaurant. From selecting the staff to planning the menu, there are so many decisions to make. Restaurant flooring is one of the most important as it creates the ambiance of your establishment. 
The restaurant flooring becomes the foundation of your decor aesthetic. It also must be functional and safe. It's also important to evaluate rules with regard to quality flooring options that are allowed in regulated spaces like prep areas.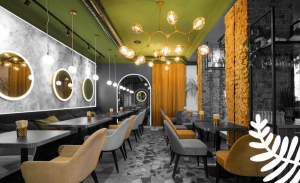 If you once cut corners and added a cheap floor, no doubt it's looking fairly worn now. What kind of flooring should you use now or if opening a new restaurant, vinyl flooring rolls, laminate, linoleum? Take a look.
Restaurant Flooring Ideas
1. Luxury Vinyl Flooring (LVT Tile / LVP Plank)
One of the most popular flooring materials out there for restaurant flooring is luxury vinyl tile also known as LVT or LVP, Luxury Vinyl Plank Flooring – the wood look. LVT Flooring is commonly made to look like stone, metallic, or other abstract designs for modern or classic decor.
2. Resilient Flooring
A good choice for many restaurant flooring is eco flooring, which uses slip-retardant materials. Those of you who worry about your wait staff or customers slipping on your floors can gain confidence by these types of flooring. The roll vinyl flooring uses dynamic underfoot traction to make the floor impossible to slip on.
3. Commercial Laminate Wood Flooring
If you're looking for a more earthy style to your restaurant, Softzone interior design company in Qatar will provide the best quality of service. You'll find a reclaimed wood look here that adds real character to a restaurant fitting the theme.
Style/color options start at Antique Structure Black Paint and end with Woodland Reclaim Old Original. These styles blend the old with the new, giving you a unique look if you own an eatery in a rustic setting.
4. Rubber flooring
Rubber flooring is ideal for high-traffic commercial interior spaces such as airports, healthcare facilities, and restaurants. Rubber flooring is durable and is resistant to water and heat and is easy to maintain. Besides being comfortable to walk on, it is slip-resistant and sound absorbent. It comes in a variety of textures and colors.
5. Tiles
The best flooring options include tiles. This is because they last for a really long time and do not wear out. Some tiles are stronger than others leaving the buyer to choose. Glass tiles are water-resistant and also stain resistant. Tiles also improve the beauty of an office as long as it is cleaned regularly.
6. Laminate
Laminate is an awesome choice to stand up to the daily wear and tear your restaurant experiences. Its resin coating makes it a scratch-resistant and easy to clean choice for high traffic areas. It will also be resilient to any spills that are inevitable to occur.
Its low cost and flexibility make laminate a wise choice for large spaces. It comes in a huge assortment of designs and colors. It's often made to look like wood but can also be designed to simulate tile and stone, making it a budget-friendly option for a high-end look.
Price is always a factor when considering different flooring choices. At the same time, it's important to get the most for the money being spent. That requires research, both into the types of materials that are available and the companies that are manufacturing and distributing them. If you're looking for a unique flooring material that won't break the bank then Softzone interiors is perfect for you.