Even if you offer the very best food on earth, if the restaurant design doesn't enrich the guests' dining experience, they're not likely to return or recommend your establishment to friends and family.
Your restaurant design should be customer-oriented, something that agrees with the functional needs of the customer as well as something that's aesthetically pleasing. Good decor and architecture are some of the most effective ways of marketing your food. Come up with a theme that compliments the food you serve and create an ambiance that stands out.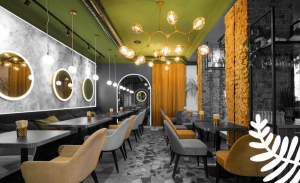 Your goal here should be to enrich your customer's dining experience and make it memorable so that not only do they keep coming back, but gladly recommend to friends and family.
Restaurant design: Things to consider
1. Add style with minimalist shelving.
Minimalist shelving is an easy way to add function and style to your restaurant. Play around with different shapes or textures to create the look you desire. Most of these projects can be done yourself, making it budget-friendly.
2. Feature beautiful plants.
Plants are a great way to update your space on a rotating basis. Every week could be different if you wanted it to (and if budget allows). Or you could use low maintenance plants, like air plants, to bring the outdoors in!
3. Lighting
Lighting is a much more important factor in restaurant design. In a public place such as a restaurant, it becomes even more important. The right lighting can enhance the furniture, hide flaws, and improve the customer's overall dining experience.
Added to the above, illumination is the first thing that may attract a customer passing by. Bright attractive lighting can hook passersby with its warm welcoming appearance. Once they cross your threshold, the interior lighting continues to warm their minds and stomachs as well.
4. Showcase local art.
Make your restaurant a part-time gallery. Using a lesser-known local artist will make this project free!
5. Offer unique seating options.
Unique seating is always a differentiator, as booths and stools are all too common in the industry. Repurposing an existing chair with a fresh paint job or mixing and matching different types of chairs can liven up your environment.
6. Aroma
The power of aroma is amazing. Our sense of smell is characterized by the individual's memory. The right aromas recreate fond memories of past experiences and can whet anyone's appetite.
Our sense of smell is much stronger than many realize. The average human has about five to six mission olfactory receptors. These are able to detect and catalog some 10,000 different smells. Often we're quite unaware of this but something about a place appeals to us or the opposite can be true.
Looking for affordable restaurant design and interior design companies in Qatar? Get it through Softzone interiors.